Pat Robertson, STFU!
From Instapundit, pointing to the Washington Post:
"He started off playing a chauffeur in 'Driving Miss Daisy,' and then they elevated him to head of the CIA, and then they elevated him to president and in his last role they made him God. I just wonder, isn't Rush Limbaugh right to question the fact, is he that good an actor or not?"
-- Pat Robertson on his "700 Club" television show, using the example of black actor Morgan Freeman to defend Limbaugh's jab at Philadelphia Eagles quarterback Donovan McNabb.
Now the media have gone too far. Everybody knows God is white, as proven by this photograph Pat Robertson took on vacation.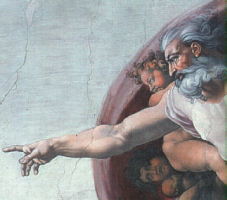 Posted by Mr Green at October 7, 2003 08:44 AM